Careers
The Bishop of Winchester Academy is committed to providing Careers Education, Advice and Guidance (CEIAG) to all students through the curriculum and organised activities. The Academy's Careers Guidance programme consists of a range of services and activities intended to assist students to explore different pathways and make decisions on their progression routes. Careers Guidance will focus on the specific needs of the individual student to promote self- awareness, personal development and other skills enabling them to manage their future careers.
Partnerships
At the Academy, we are committed to offering our students a well rounded and professional support service to ensure their future employability. The partners we work with are vital for this to occur.
If you would like to work with the Academy to support our students, please contact us as we are always pleased to work with additional companies and organisations.
A selection of companies that we work with are below.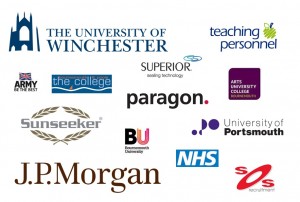 Work Experience
The Academy feels strongly about the benefits of work experience and offers a Work Experience Programme for all Year 10 and 12 students.
We believe it is important to give our young people a realistic 'taster' of seeking to obtain work and being in the work place. Trying to get a work experience placement is a small indication of what it will be like in the future when they are trying to find employment. The main aim of work experience is to give young people the challenge of being in the work place. They will discover aspects about themselves that will help make important career decisions in the future.
Important Dates for 2016-2017
September 2016 – Official Launch of Work Experience to current Year 10 students
November 2016 – Deadline for students to confirm placement
10th July - 21st July 2017 – Work Experience Placement Dates
Students can access all information on the Work Experience Programme through the Student Portal. You can also access the resources with the below link (Students will need their tbowa log in):
If you have any questions regarding the Work Experience Programme, please contact the Academy.
Careers Support
All students at the Academy are entitled to careers support through the Careers Education, Information Advice and Guidance (CEIAG) programme.
The support available to our students comes through a range of activities to engage as many students as possible. Some examples are below:
One to One Advice & Guidance interviews
Careers Focussed Assemblies and Mentor sessions
'Meet the Industry Expert' Careers Talks
Local Careers Fayre
Access to a variety of resources
Mock Interviews
Work Experience
Visits to local employers
Students have access to a Careers section on the student portal which is full of useful information, resources and website links. A selection of websites useful for students and parents is below: