6th Form Results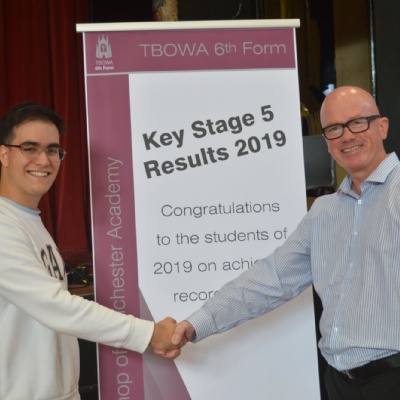 Students at The Bishop of Winchester Academy are celebrating record breaking A level and BTEC results.
More students than ever before have been successful this year. Students are heading off to Russell Group universities to study a wide range of exciting courses. Amongst the many courses students are embarking upon are Law, Neuroscience, Mathematical Physics, Mechanical Engineering, Astrophysics, Primary School Teacher Training, Physiotherapy and Art.
Students who deserve to be singled out for a special mention are Matt Parish A*, A, A; Devon Young A*, A, A, B; Santiago Rodriquez A, A, A, A; Jonathan Cousins A*, A, B; and Sam Goodey triple Dist*.
Behind the statistics are many inspirational individual stories of personal triumph, overcoming adversity, determination, self-belief and faith. Over 92% of students have achieved the university place of their choice.
Amongst The Bishop of Winchester Academy Alumni are students who have graduated from university this year. Most notably Paul Ferris who achieved a First Class Degree in Economics and Ruby Harsent who achieved a First Class Degree in Biomedical Science.
Governors, staff and the Diocese are all extremely proud of our students' achievements.
Congratulations to all of the Class of 2019.