PE & Sport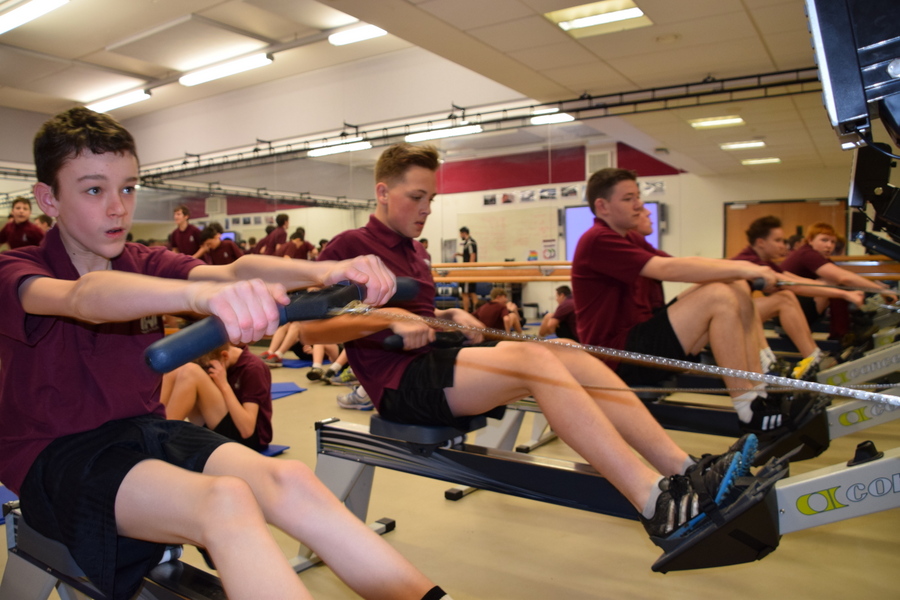 "Pupils are encouraged to take responsibility for their own learning and, as seen in physical education, in leading the learning." (Ofsted July 2013)
Welcome to The Bishop of Winchester Academy Physical Education Department. As a department we pride ourselves on having high expectations and providing our pupils with experiences to help them achieve their optimum potential.
Physical Education is primarily concerned with physical capabilities but the associated aspects of knowledge and understanding are also vital components for each and every pupil.
Physical Education is also to encompass enjoyment and satisfaction and thereby encourage a lifelong commitment to an active and healthy lifestyle. Regular Physical Activity can improve quality of life, improve health, promote social inclusion, raise individual self-esteem and confidence and counter anti-social behaviour.
Facilities
We have excellent facilities within the PE department that allow the pupils to become as active as possible.
The Sports hall allows us to teach Gymnastics, basketball, badminton, Health related exercise, handball, volleyball, netball, indoor cricket, trampolining
We also have a dance studio that is used mainly for Health related exercise and dance with 8 Concept 2 rowing machines and a range of other fitness equipment for activities and testing.
Outside there is a MUGA (multi use games area) that is used for Netball, football, handball, tennis, and an extensive field for Rugby, Football, Athletics, Rounder's & cricket.
Key Stage 3
Year 7 & 8
Throughout each year all pupils will follow a curriculum of different activities across the following areas, Invasion Games, creative games, Outdoor and adventurous activities, Athletic activities, striking and fielding and Health related Exercise. Across year 7 & 8 pupils will have the opportunity to learn the basic and more advanced skills in these areas as well as further develop these through attending extra - curricular clubs before, during and after school. Students also learn aspects of theory including diet and nutrition, planning a training programme and anatomy and physiology which will support their choices in making healthy, active lifestyles and prepare them for an examination course at Key Stage 4.
Key Stage 4
In Year 9 & 10 Core PE students follow 4 main pathways across the year including Invasion games, Creative, Outdoor & adventurous activities & Health related exercise. In addition to their practical core PE lessons, students will take the Cambridge National Sport Science Level 1/2 Certificate which includes units covering sports injuries, applying the principles of training, the body's response to physical activity and sports nutrition.
Examination courses
At the Academy we offer the pupils a wide range of courses to study at examination level. We have a range of vocational courses such as BTEC's and NCFE and the GCSE & A Level course.
Key Stage 4
GCSE Physical Education through OCR ( 9-1 grade)
BTEC Sport Level 2 (L1P – D*)
NCFE level 1/2 Health & Fitness ( L1P – D*)
Level 1 Sports Leadership (Sports Leaders UK)
Key Stage 5
A Level Physical Education OCR (A* - E)
BTEC National Foundation Diploma in Sport (Equivalent to 1.5 A levels - P – D*)
BTEC National Diploma in Sport (Equivalent to 2 A Levels - PP – DD*)
BTEC National Extended Diploma Sport (Equivalent to 3 A Levels – PPP – DDD*)
Extra Curricular Clubs
At the Academy we are really keen to provide the pupils with a vast range of activities to keep them as involved in sport and physical activity as possible while working on developing their skills and competitive aspect of sport.
We aim to have as many sports teams as possible to compete in local leagues and fixtures against other schools including football, rugby, netball, basketball, athletics, rounder's, cricket, volleyball and indoor rowing and all student are encouraged to attend clubs and participate in these activities. As well as school teams we offer a range of other activities including fitness club, badminton, handball & table tennis.
To ensure we can offer this extensive range of clubs they are often run at different times throughout the day including before school , break times, lunch times and after school.
Physical Education Kit
The Academy PE kit includes the following compulsory items.
Academy PE shirt (short or long sleeved)
Plain black PE shorts
White socks for indoor/summer activities
Burgundy Football socks for football/rugby
Suitable Trainers
Football/Rugby Boots
Gum shield (rugby only)
Optional Items are
Academy full zip training top
Plain Black Tracksuit bottoms
Academy Leggings (only for creative and Health related exercise activities)
There should be no stripes or large logos on shorts or tracksuit bottoms. All pupils must have their PE kit with them for their PE lesson and even if they are not participating due to injury or medical they must still have their kit to be part of the lesson and are expected to assist their teacher in a coaching/officiating role.
For more information on the Extra curricular Clubs and activities please see the tab that will give a timetable of all activities. In addition to this the sports hall is available for year groups throughout the week to encourage the students to be physically active during their break time and play in a safe and structured environment.
Monday year 7
Tuesday Year 8
Wednesday Year 9
Thursday Year 10
Friday Year 11