A-level & BTEC results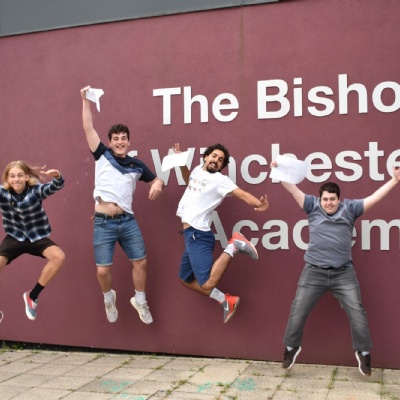 Congratulations to students and staff at The Bishop of Winchester Academy for achieving an exceptional set of 'A' level and BTEC examination results.
All students should be recognised for demonstrating determination and resilience in the face of extreme adversity during these unprecedented times. Students have lived out the school mantra of 'High Expectations and No Excuses.' Teachers have worked tirelessly to ensure that students had every opportunity to succeed and students have responded by delivering the Academy's best results to date.
100% pass rate for all 'A' level and BTEC entries.
90% of students gained their first choice university.
30% of students gained place at a Russell Group university.
The diverse range of undergraduate subjects being studied include: veterinary Medicine, Law, Chemistry, Astronomy, Computer Science, Electronic engineering, midwifery, accounting, nursing and education.
Top Achievers - Average grade A-A*
Joseph Foster A*A*A* - Chemistry at Durham
Sophie Calkin triple Distinction *, B - AUB
Josh Holes A*A*B - Veterinary Science at Nottingham
Ben Colmer A*AA - Computer Science at Southampton
Layla Caller A*AA - AUB
Orkun Ozkan A*AA - Electronic Engineering at Imperial
Isaac Dendle AAA - Leeds College of Music
Charlotte Quenault AA, Dist - Law at Bournemouth
Oyku Erdenlig Dist*Dist*Dist - AUB