Spanish Visitors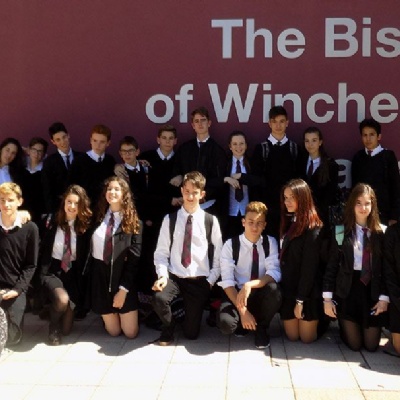 The Bishop of Winchester Academy was pleased to host a group of Spanish students during May.
M. del Mar Sánchez has kindly written about their experience with us.
In Barcelona, we learn English at our school but last 18th May we made a trip to Bournemouth to learn it in a different way. We spent a week in England. During the evenings and the weekend we stayed with host families but for four days we had the opportunity to attend the Bishop of Winchester Academy.
It was very interesting because the school dynamics are very different. We had to wear a uniform and it was exciting for us because most of Spanish schools don't use them. We had a partner of our age who was with us through all the lessons. They really helped us a lot to improve our English and made us feel at home.
We appreciate how the school and our buddies welcomed us and we felt totally integrated in the environment of the school as in class time and in the breaks we had.
We really enjoyed it and I think it's a fantastic experience to learn a different culture and language.
M. del Mar Sánchez
Escola Grèvol
Barcelona