Open Evening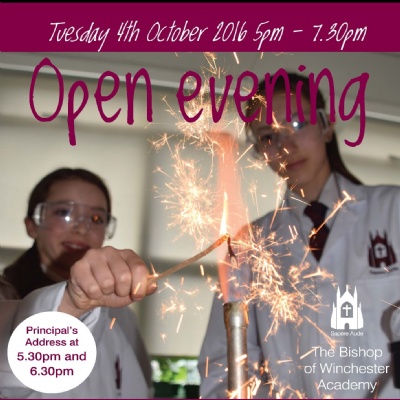 Tuesday 4th October, 5.00-7.30pm
The Bishop of Winchester Academy is an all ability school judged by Ofsted as 'Outstanding' in many categories, offering inspirational learning to students between 11 and 18 years.
The Academy strives to cherish and nurture each individual young person as they seek to establish their own identity in a rapidly changing and challenging world, instilling a sense of self-worth, pride in achievement, and have the courage of their own well-founded convictions, to make wise decisions that will allow them to celebrate their talents, fulfil their God-given potential and live life to the full.
Students benefit from the brand new buildings equipped with state of the art teaching facilities suited for the 21st Century and our curriculum model recognises that all students are good at something. All students have the opportunity to continue their education in our 6th Form with a variety of A levels and vocational subjects. The Academy has established a culture of high expectations and no excuses and is confident that all students will leave the Academy as independent, well qualified individuals who will enjoy happy and fulfilling lives.
The Academy is well supported by many Bournemouth churches and the Diocese of Winchester and is privileged to have its own Chaplain offering support to all its students and their families.
The best way to understand this is to see the Academy at work at the Open Evening on Tuesday 4th October from 5pm-7.30pm (Principal's address at 5.30 or 6.30pm).
For more details call 01202 512697.
Parking
Overflow parking is available in the retail park as a walk and stride facility, as shown in the map below.