Food Technology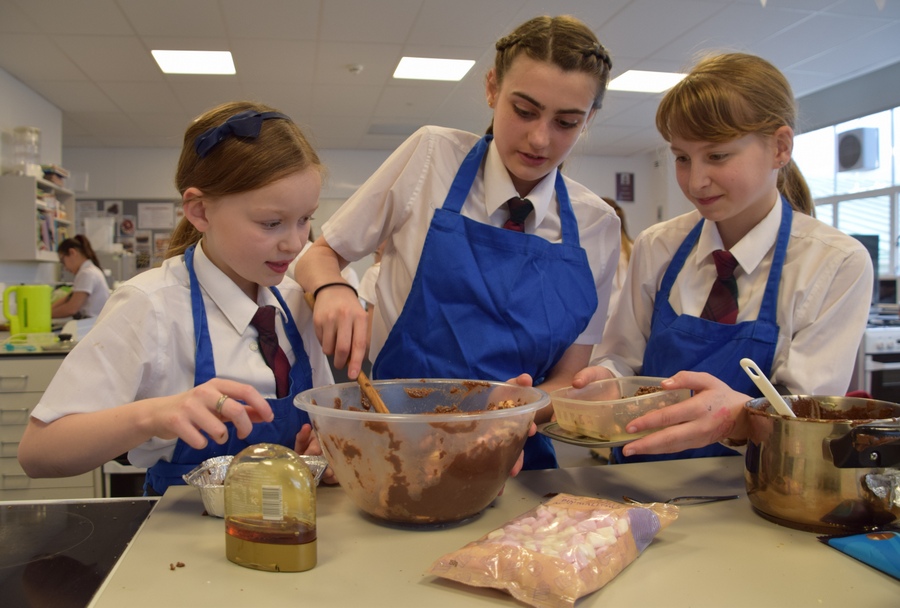 "The outstanding curriculum has a significant impact on increasing students' attendance and enjoyment of learning and on the improvements in their achievement." (Ofsted July 2013)
Key Stage 3
Food Technology
At Key Stage 3 pupils will gain a good understanding of hygiene and safety in the kitchen, which will enable pupils to design and make products that are suitable for consumers and produced safely. Students will experience using a selection of equipment correctly, as well as learn different ways to prepare, combine, mix, heat and store ingredients correctly. Students will learn a variety of basic skills that include assembly of dishes using a variety of basic ingredients, cake making, and pastry skills.
Cooking as a key skill will give pupils an understanding of making healthy choices, portion control, good nutrition and the importance of maintaining a healthy diet. Students will learn how ingredients change during the cooking processes. Students are encouraged to try different foods and evaluate them through sensory analysis. We aim for our pupils to leave the Academy able to choose and cook dishes independently, preparing them for adult life.
Key Stage 4
Design and Technology: Food Technology Short Course
Students will build on prior knowledge and further develop their design skills to design and make creative products. Students will learn to meet the needs of a design brief through research and product analysis, and will further develop their practical skills to produce their designs. This course will provide pupils with an equivalent to half a GCSE, which will enable pupils to feed smoothly into the full GCSE Food Technology course. Students will build on their theory and develop research ideas relating to healthy eating, functional properties of food products, and nutritional understanding. Students will be expected to create a ten page design folder relating to a design brief of which they must research and analyse.
GCSE Design and Technology: Food Technology
This course enables pupils to show their creative flair in designing and making products to a set design brief. Pupils will need to conduct thorough research and product analyses, to then create and make their own innovative designs. Pupils will be expected to create a twenty page design folder, focusing on the design process, trialing their design ideas, evaluating and developing their ideas, and analyses of their created products. Pupils will be expected to design and make products which show the development of their practical skills. Pupils will take a written exam at the end of the course relating to their understanding of theory.