Music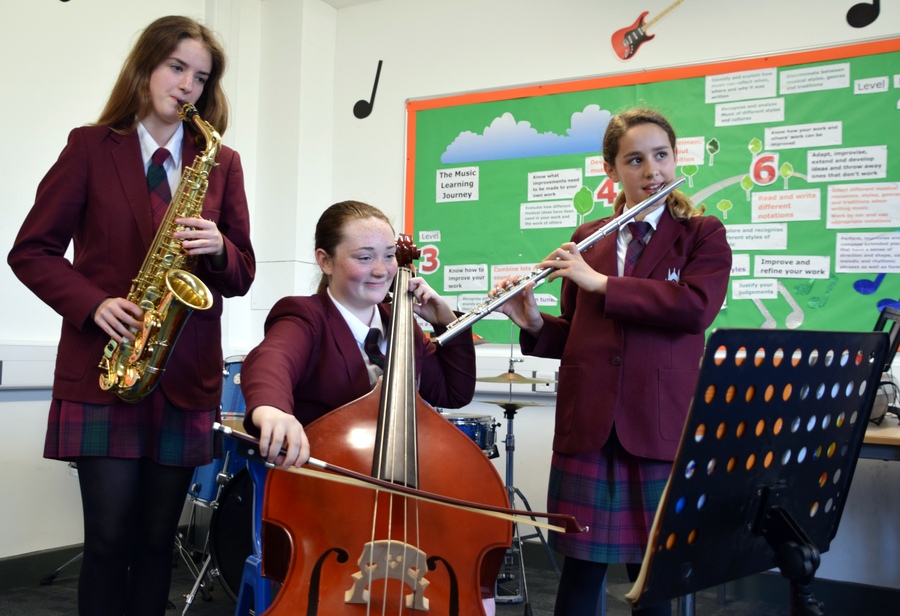 We are lucky to have a vibrant Performing Arts department within the Academy which encompasses Drama and Music. We have access to some wonderful facilities including; a fully equipped Drama studio, Music room, Music IT suite and music practice rooms as well as a fully functioning Recording Studio.
Music enriches the lives of children and provides them with an expressive language without words. Through inspiring teaching we hope to create a stimulating and innovative environment for students to develop their musical ability and creativity.
Music Department Aims…
To broaden the musical experience of all students
To reflect students' interests and aspirations
To enable students to develop their full potential through practical activities
To cater for all ability levels.
The Music department also has qualified instrumental teachers who come to the Academy to teach drums, guitar, bass guitar, piano/keyboard, singing, brass, woodwind and other instruments according to demand. If you are interested in learning an instrument, please see Mr Shooter.
In the Community
We continue to develop strong links with the Bournemouth Symphony Orchestra and have joined with them on a few initiatives throughout the years. The last installation was a project called 'Take Off' where over 50 students took part in an original soundscape composition which had its World Premiere in our Inaugural Performing Arts Showcase!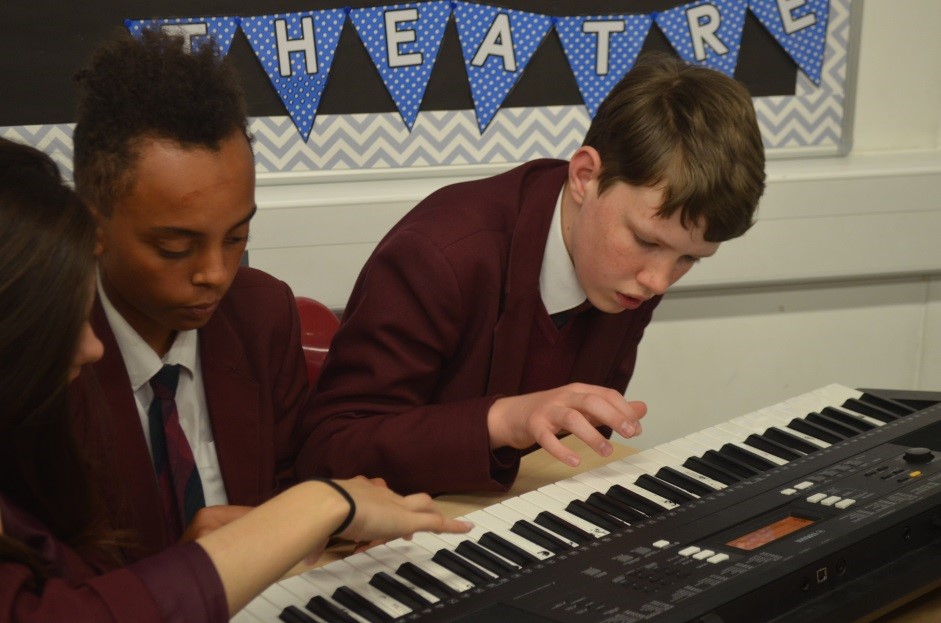 Key Stage 3
Year 7
Students explore a wide range of music. They will experience music from around the world and discover new instruments they may not have heard of before. Lessons are usually practical and students will perform using vocals, African drums and keyboards. They will also develop their composing skills. Topics covered include African Drumming, Vocal Skills and Instruments of the Orchestra.
Year 8
Students will have the opportunity to work in bands and use Music Technology. They will develop their ensemble performance skills by creating their own arrangements of Popular Songs. Students will have the opportunity to use Cubase to compose Music for Film and will explore Blues Music.

Key Stage 4
Students can opt to study Music. They will learn the transitional skills that lead on to GCSE Music in Years 9, 10 and 11. The course is practical based and suitable for students who are passionate about Music and would like to improve their skills. Topics covered include Song Writing and World Music.
The GCSE course follows naturally on from Key Stage 3 Music in the study of various styles of music through Performing, Composing, Listening and Appraising. Students take the OCR exam. This involves five specified Areas of Study in a blend of Coursework and a Final examination. Students will explore their own instrument through a Solo Performance and Composition for their instrument. They will learn about various different kinds of ensemble ranging from traditional Choral Music to Pop Songs and will perform in an ensemble. Dance Music and Film Music are also studied in depth and students have to the opportunity to compose in these styles.