A Level Religion, Philosophy and Ethics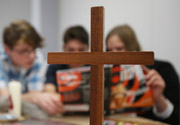 Why choose Religion, Philosophy and Ethics?
The value of Religion, Philosophy and Ethics lies in the practical importance and general relevance of the subject matter. It will attract those who wish to acquire a deeper knowledge and understanding of the meaning to Life's Big Questions. Sociology and Psychology are directly complementary studies but the subject also has points of contact with Law, Politics and the Sciences. As it is concerned with questions about existence and knowledge, this subject will stimulate the development of skills in the rational assessment of evidence and conflicting opinions.
Lessons will cover topics such as the philosophy of religion, investigation of the four traditional arguments of God's existence and the challenges to religious belief. The course will also cover different religious ethics and theories, and will seek to apply these theories to topics such as abortion, euthanasia, war and peace, the environment and business.
How will I learn?
Lessons are lively and thought provoking. Difficult issues are presented in a clear and stimulating way and much of the time is spent debating the issues as a class or in small groups.
For more information, click the link below;