5.00-7.00pm Wednesday 8 December - Insight to Engineering - virtual event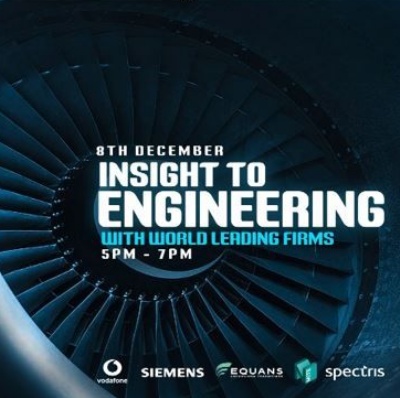 On Wednesday 8th December from 5:00pm - 7:00pm Young Professionals are hosting a virtual Insight to Engineering Multi-Employer Event and will be joined by 5 of the biggest engineering companies in Siemens, Spectris, Vodafone, Equans and specialist university NMITE!
Each company will speak for 20 minutes, giving an insight into their business and a taster of what it's like working for the organisation. It's not very often that is possible to bring such an incredible line-up of global organisations together into one event so YP are excited to be able to put this together and share the opportunity with you.
Registration Link: https://www.surveymonkey.co.uk/r/YP-Engineering
The Companies Involved:
Siemens are a technology company focused on industry, infrastructure, transport, and healthcare. From more resource-efficient factories, resilient supply chains, and smarter buildings and grids, to cleaner and more comfortable transportation as well as advanced healthcare. Operating in more than 200 countries last year Siemens Group generated revenues of €55.3 billion.
Spectris harnesses the power of precision measurement to equip their customers to make the world cleaner, healthier and more productive. They provide global customers with specialist insight through our high-tech instruments and test equipment, augmented by the power of software.
EQUANS - With revenues of €12 billion, EQUANS is present in 17 countries - mostly across Europe, but also in North America, Latin America and Australia. With nearly 74,000 employees, EQUANS has excellent technical know-how in design, installation, maintenance and performance services, with a unique combination of skills in HVAC, Cooling, Facility Management, Digital & ICT, Electrical, Mechanical & Robotics.
Vodafone are a FTSE-100 British multinational telecommunications company connecting over 334 million people and organisations of all sizes to the digital society. Their engineering community is made up of "game-changers and future-makers". With opportunities in software and network engineering, solutions architects as well as sub-marine engineering.
NMITE are a newly developed specialist engineering university with ties to some of the world's leading engineering companies.
If you're interested in hearing about how engineers are changing the way we live through getting involved with cutting edge developments in order for us to live in a more sustainable environment then this is for you!
This event will give you direct access to hear from the companies at the forefront of the ever evolving engineering world and give you a chance to ask them all your questions.