Insight to Babcock International - A world leader in Engineering: 5 - 6.30pm Thursday 9 February 2023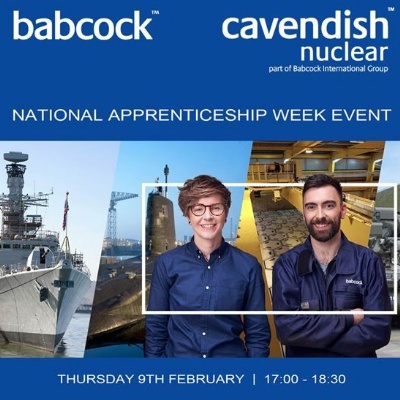 Do you like the idea of working on the engine parts for a huge mega ton submarine, or perhaps fitting on the armoury for a tank! Register your place for this virtual event now.
Babcock International are a British aerospace, defence, and nuclear engineering services company – specialising in managing complex assets and infrastructure. Founded in 1891, operating in the UK, Australasia, Canada, France, and South Africa, with exports to additional markets and employing c.28,000 employees, Babcock International are the world's leading, engineering services company. And they have lots of exciting school-leaver opportunities to share with you.
Babcock's mission is to create a safe and secure world through defence capabilities that they build. If you're interested in gaining a further understanding of Babcock as a business and have the creativity, curiosity, and the passion to learn then look no further.
In return, you'll hear everything about the company and the exciting opportunities they have on offer that are making a global impact.
Registration link – Insight to Babcock Engineering Event