Pathway to Bath Programme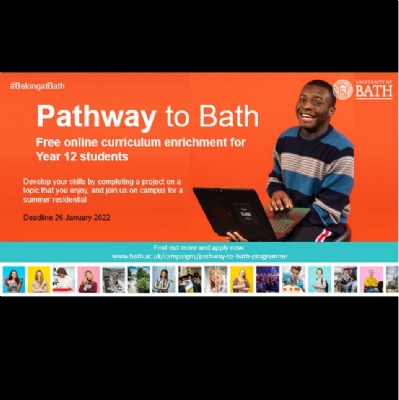 The University of Bath is inviting applications now from Year 12 students for the next intake of their FREE Pathway to Bath programme for students looking to develop skills and to support their entry to Higher Education.
Pathway to Bath is a FREE, blended learning programme that gives students the chance to develop key skills for university study and beyond while working online alongside experienced staff and current students. The programme offers the opportunity to attend a free 3-day summer residential visit to experience life as a student at Bath.
The programme is designed to fit around a busy A level (or equivalent) schedule and will require no more than one hour per week to complete. Students can work through the sessions wherever and whenever suits them, and have the opportunity to gain an alternative offer to study at Bath if they successfully complete the programme.
CLOSING DATE: 26 January 2022
Academic and widening participation eligibility requirements apply.