RAF World online Careers Event - 6.00pm 10 May 2023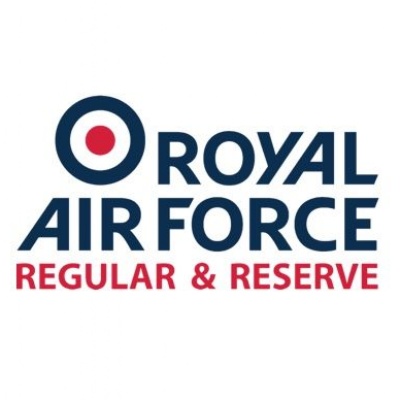 RAF World is back - This is an amazing and unique opportunity to have a look behind the scenes on how the RAF generates personnel in order to support activities like operations, ceremonial events and fly pasts as well as the different types of career opportunities available.
This is the perfect opportunity to discover what life is like in the RAF and find a career for you. Tickets are FREE, secure your spot now to join us. We can't wait to meet you!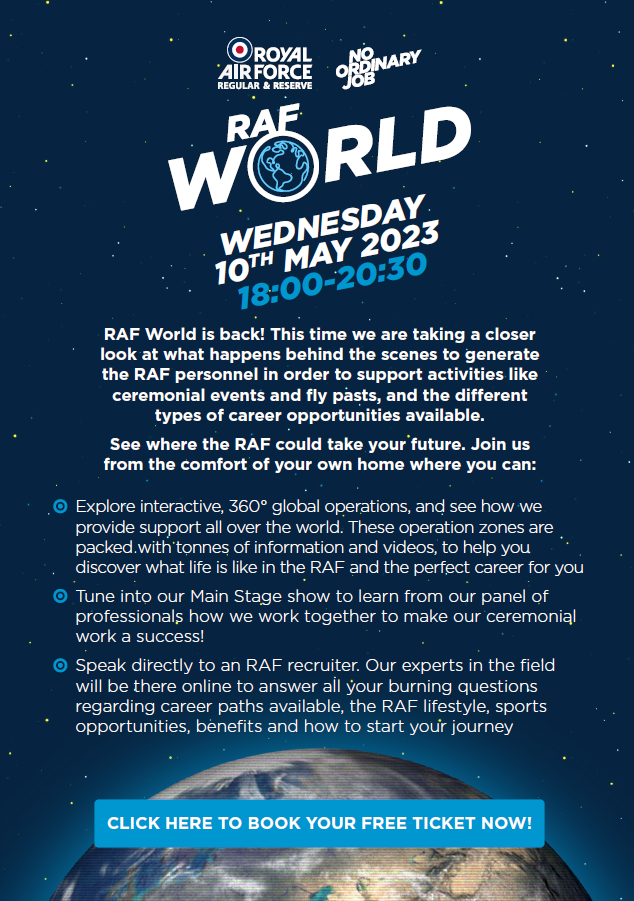 How do I join the virtual event?
An event access link and password will be sent by email ahead of the event, using the address you supplied during the registration process. Please keep an eye on your email inboxes (spam and junk folders too).
To join, click on the link enclosed in your email at the event start time. This will open the event on your default web browser. RAF World is fully mobile responsive and is accessible across any device. However, if accessing on a mobile device, please be aware that if you join a chatroom with the recruiters, this will show on Microsoft Teams and you may be asked to download the free app on your device for this.
Please note the official event stream link will only be distributed via Eventbrite to ticket holders therefore any third-party links shared on social media should not be trusted. We will never ask you to provide any card details to access the event so if you see this during the event, please report it to your cardholder.
If you have any technical difficulties, please contact us at raf@identitygroup.co.uk and a member of our team can assist.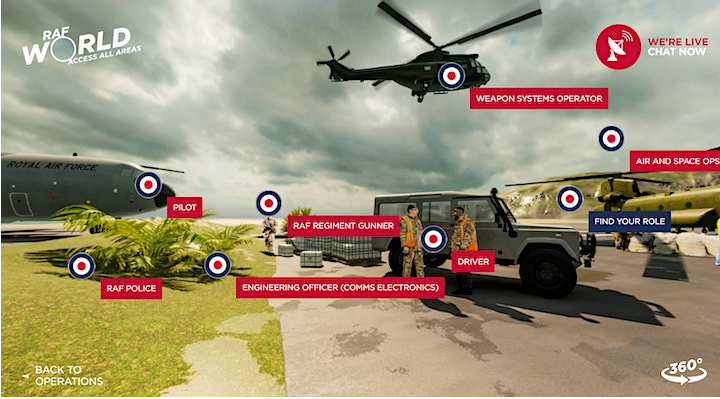 Consent and Privacy
If you are registering to attend the RAF World virtual event, we would like to keep you informed of some further career and event opportunities within the RAF, with the data you've provided, as well as using your personal data for statistical purposes.
We are committed to doing all that we can to keep your data secure. To prevent unauthorised access or disclosure we have put in place technical and organisational procedures to secure the data we collect about you – for example using varying levels of encryption. We also make sure that any third parties that we deal with have an obligation to keep all personal data they process on our behalf secure.
To register your interest in a role with the RAF you must be at least 15 years and 9 months or above (Full-time RAF), or minimum 18 years (Reserve) and be a UK National based in the UK. Please note, that you can opt-out at any time.