Uniform/ Equipment/ Phones
Uniform:
A high standard of personal appearance is expected of all students at all times. Students are expected to take pride in their personal appearance and uniform throughout the academy day. Please refer to our uniform policy for more information.
Our academy uniform can be purchased from CJI Clothing. Currently, due to Covid 19, CJI is working on a click and collect service only. Uniform can be purchased through calling CJI and arranging to collect your purchase between Monday - Friday, 10am to 2pm.
Phone Number: 01202 513387
Email: info@cjiclothing.com
Website: https://www.cjiclothing.com
Address:
886 Wimborne Road
Moordown
Bournemouth
BH9 2DR
Please see message below from CGI:
We are asking that parents come in earlier than they usually would to buy uniform as we can't fulfil the capacity of customers as previously mentioned. We are extending our returns policy to 60 days as we understand people will be returning items due to not being able to try them on in the store.
We are already extending our opening hours from 9am to 8pm starting from Monday 3rd August. These hours will be Monday to Thursday. Fridays we will open 9-6pm, Saturdays 9-5pm and Sundays 10-3pm. We are doing everything we can to ensure all children are able to get their school uniform as we cannot guarantee all children will be able to get it if the parents are waiting till the end of august to start purchasing items.
Boys
Academy blazer
Academy burgundy V neck jumper – (optional)
Plain formal business black trousers (not denim, cord or skin tight)
Academy tie
Academy scarf – (optional)
Plain white shirt with a collar (not Polo Shirt). Short or long sleeves are permissible and should easily tuck into trousers.
Black socks only
Academy bag in House colour
Black leather type formal shoes that can and should be polished with laces or slip on.
Girls
Academy blazer
Academy burgundy V neck jumper – (optional)
Academy skirt or formal black full length plain material classic tailored style trousers (not leggings, fashion, denim, cord unstruc­tured design - clinging to the leg)
Academy tie
Academy scarf – (optional)
Plain white formal shirt only - with turn down angled collar (not Polo Shirt). Short or long sleeves are permissible and should easily tuck into skirts or trousers. No fashion fitted shirts are permitted.
White or black socks or natural or black opaque tights only. (not both, not footless). Black socks must be worn with trousers
Academy bag in House colour
Black leather type, formal shoes with no buckle or other embellishments; flat or with a low heel that can and should be polished.
P.E Kit (for both girls and boys)
Black shorts
Burgundy polo shirt
Academy rugby shirt
Burgundy socks winter / sports socks summer/indoor
Trainers / football boots
Black track suit bottoms and/or top (not compulsory)
Student will never bring a hooded top/sweatshirt to school other than school PE hooded top for sports lessons only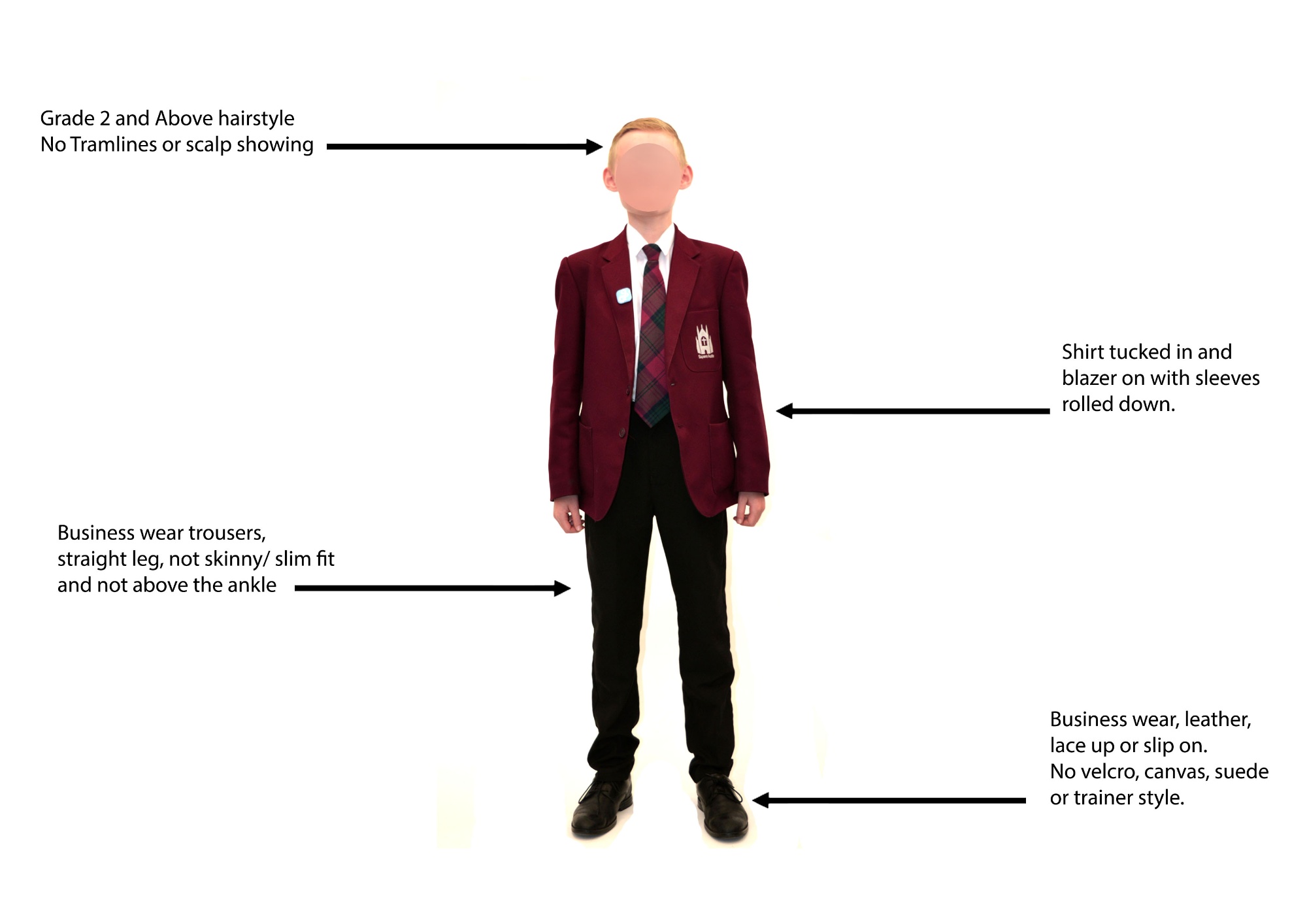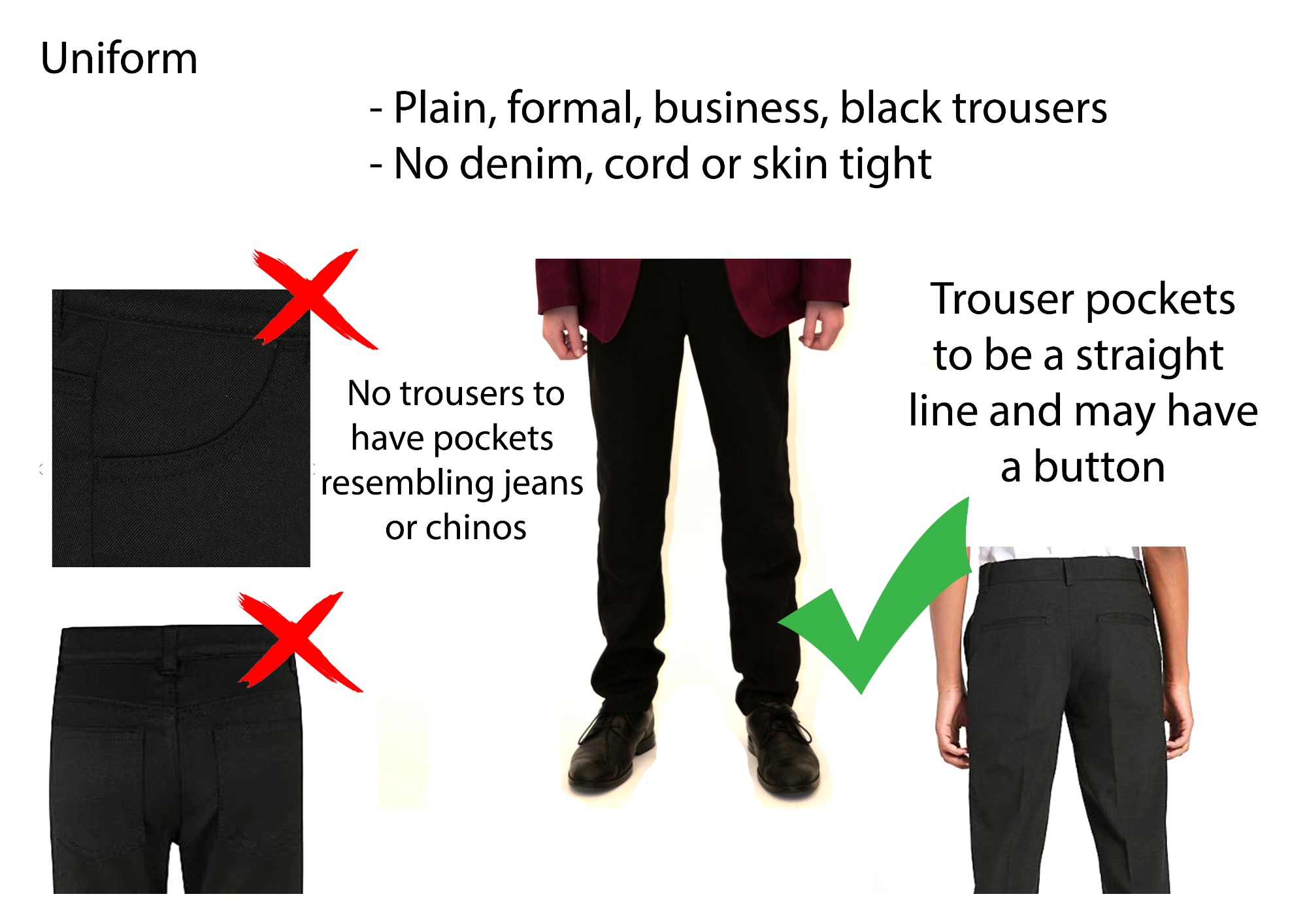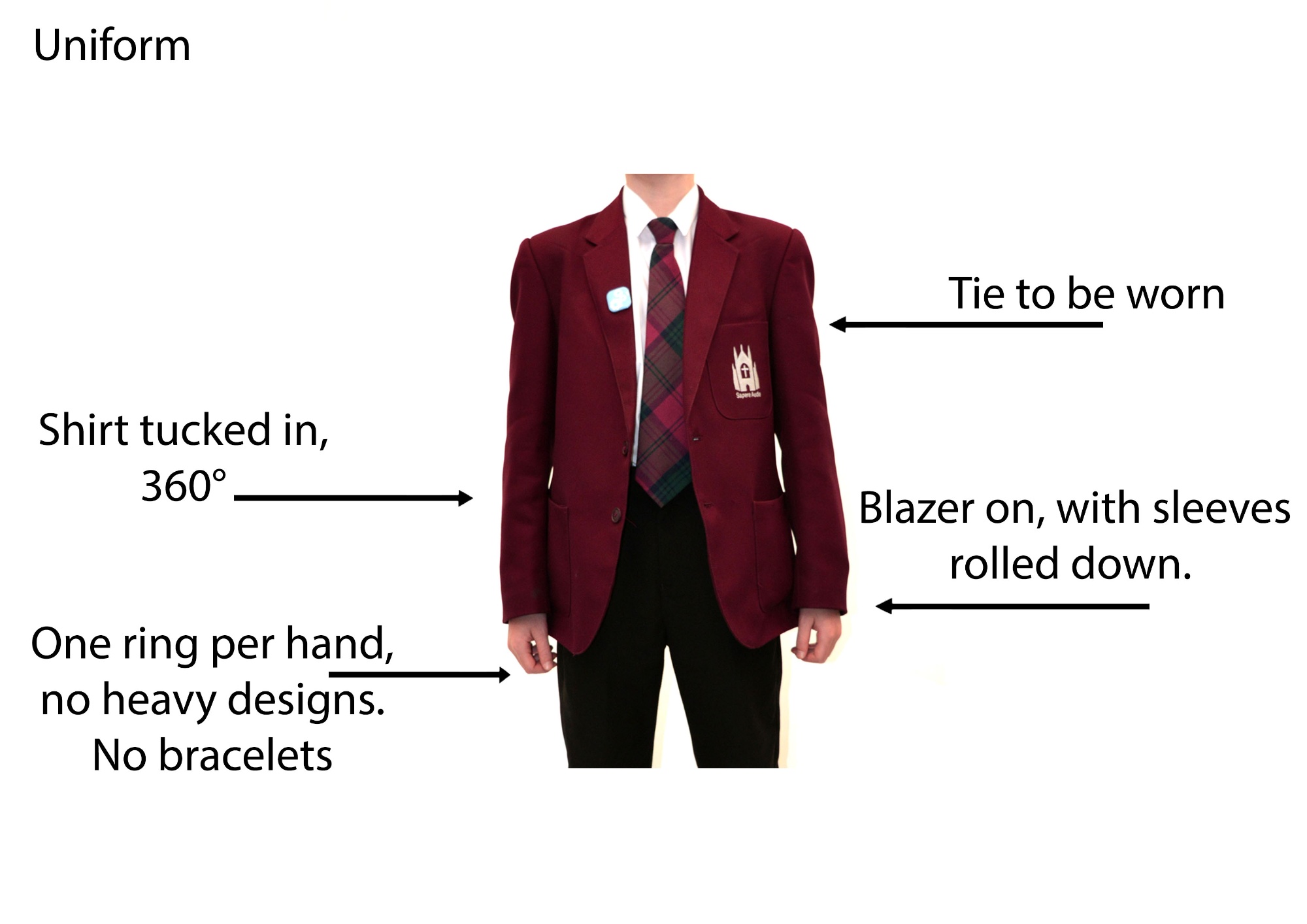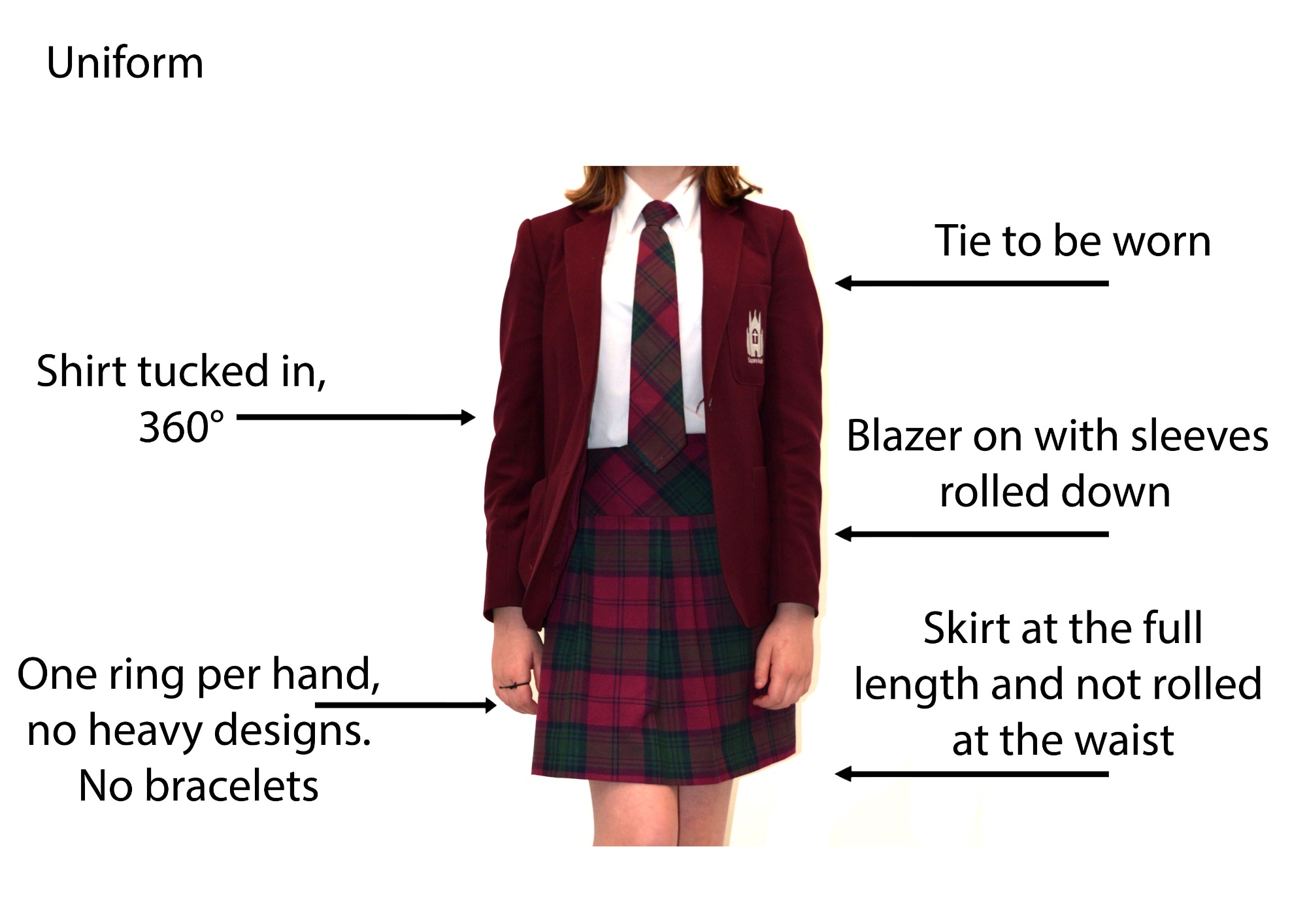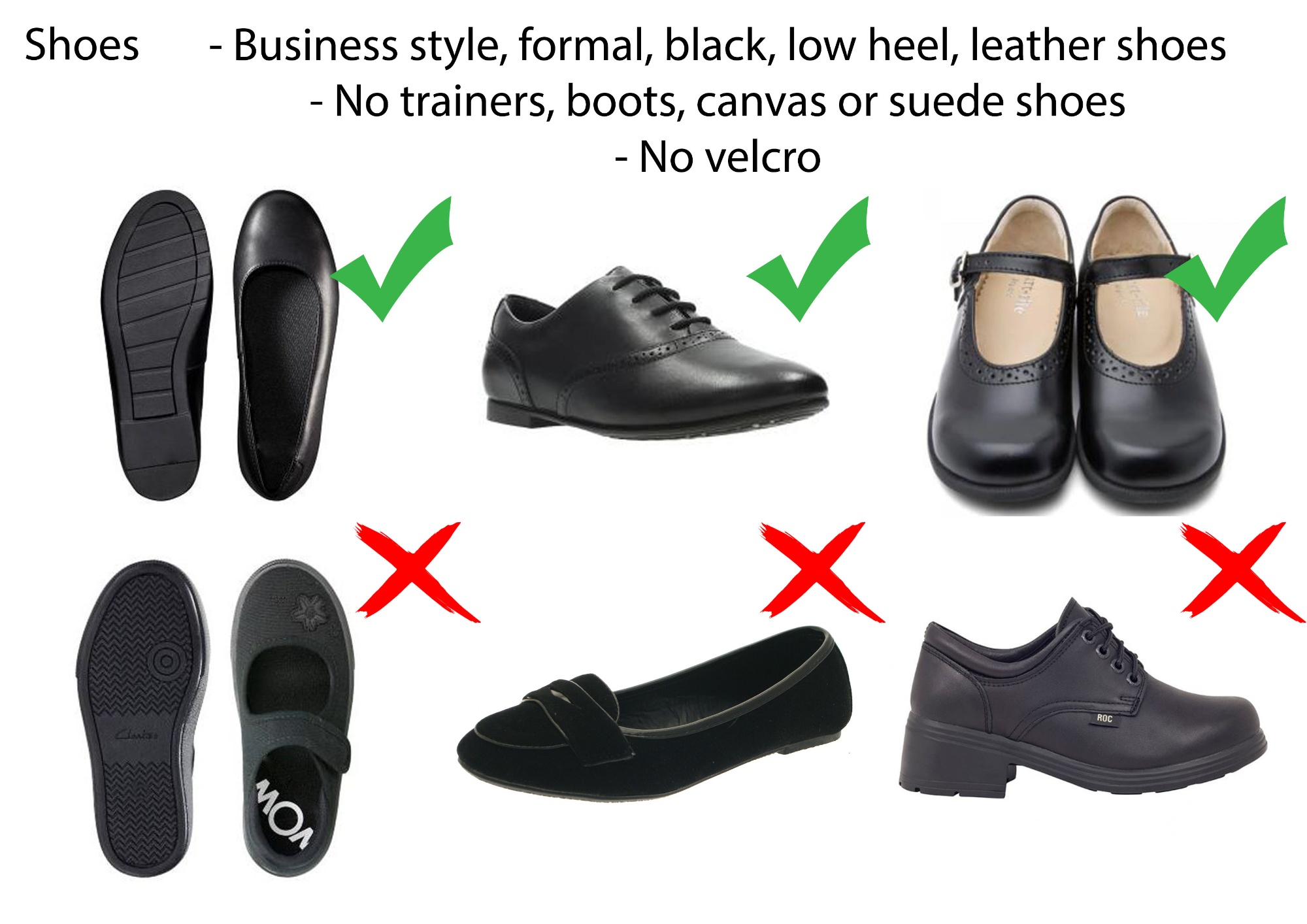 Hair:
Hair should be tidy and appropriately styled in a manner that is acceptable to 'The Bishop'. The academy does not allow any extreme hairstyles or colours. It is academy practice to permit natural hair colours only. Shaved or hair that is trimmed to so that the scalp is visible is not considered acceptable. No hair decorations e.g. tram lines. In certain situations at 'The Bishop', long hair needs to be tied back for health and safety reasons.


Equipment needed:
| | |
| --- | --- |
| 30cm clear plastic pencil case | Casio FX-991EX (Classwiz) Calculator |
| 30cm ruler – cm/inches | Reading Book |
| 3 pencils | Headphones |
| 2 black pens | PE Kit (Named) |
| 2 red pens | |
| 1 green pen | Planner* |
| Highlighters (at least 1) | Community Card* |
| Eraser | Knowledge Organiser folder* |
| Protractor (360 degrees) | Knowledge Organiser exercise book* |
(*) These items will be provided to you
Mobile devices (Including smart watches & air pods)
High quality teaching and learning is a way of ensuring good behaviour in school and at The Bishop of Winchester Academy we value good behaviour in the classroom and around our school community. To ensure that the classrooms are safe and effective learning environments mobile phones (including smart devices and air pods) and music players/ devices are not allowed in The Bishop of Winchester Academy, at any time (even before and after school). They are a disruptive influence to life in the school and can lead to bullying and other social problems. They are expensive leading to temptation of theft inside and out of school. Ideally they should be left at home. The academy will never take responsibility for the loss of a mobile device on site. Student support services are able to facilitate phone calls between students and parents if the need arises.
If a device is seen or heard while on the academy site (including before and after school hours) or the academy is aware that a student has used their device while on the academy site the device will be confiscated and taken directly to student support services where it will be placed in the school safe. The phone will then be available for collection one week from the date on confiscation (or the final Friday of the half term). A slip will be given to the students stating the date and time for collection. No mobile devices will be returned under any circumstances before the day agreed.